About us
HISTORIA – History
Annika fick sin första hund fick  som 10 åring. 1986 kom " Daysi" Zekiwa ka ilio nana, en blenheim Cavalier king charles spaniel av Zidy Munsterhiel-Ehnberg. Zidy uppmuntrade mej då redan att bli en aktiv hundsportare i agility.  1994 kom den första bordern "Tessa" Mingas Periquita in i huset och efter det har det sedan bara fortsatt att från tävlingar mest i agility och lydnad till att börja med utställning och uppfödning. 1997 skaffade jag Dundarroch prefixet och första Dundarroch valparna föddes år 2002. Efter 20 år med bara Border terrier har vi under 2013 tagit in en till, ny underbar ras i huset,  Borzoi!
Målet med vår uppfödning är friska och sportiga hundar som ska gå att använda till alla tänkbara grenar som tex jakt OCH utställning samtidigt som de är trevliga hemma hundar!
Av 12 kullar border terrier har Dundarroch fått 4 C.I.B, 13 FI U CH och 6 Fi grytchampions, och av 12 exporterade hundar är 5 utställnings champions, 2 gryt champion av sitt nya hemland. År 2012 fick vi av Finska kennel klubben motta Vuolasvirta plakett nr 867 för vår border terrier uppfödning!
Vi har nu de senaste åren haft "time out" med uppfödningen då våra 3 söner är små, men vi kommer igen förhoppningsvis under 2019 på många fronter!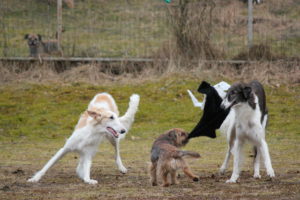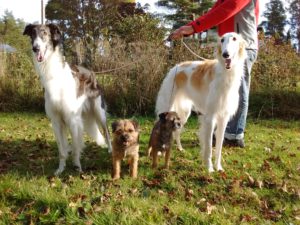 Annika got her first dog, a blenheim Cavalier king charles spaniel called Daysi ( Zekiwa ka ilio nana ) 1986 and 1994 the first border "Tessa" Mingas Periquita. I have been a active competitor in agility and obedience with my dogs eversince and started showing and breeding Borders later on. Our goal with the breeding is healthy and nicelooking, hunting/ sporty dogs who also are nice companions! After 20 years with only Border terriers we got during 2013 a new wonderful breed into our lives,  Borzoi!
So far we have bred 12 litters border terrier at Dundarroch, from where there are  4 C.I.B. , 13 FI CH, 6 FI Working champions, and from 12 exported dogs 5 are show champions and 2 working champion from their own country. Year 2012 we got awarded with the Vuolasvirta breeders prize nr 867 from the Finnish kennel club!
We have had a few years time out in our breeding since our 3 sons are very young, but we hope to start up again during 2019!
Puhumme myöskin Suomea. Jos olet kiinnostunut pennusta, rodusta tai uroksista niin ota rohkeasti yhteyttä!
Alla Dundarroch födda hundar hos FKK, all Dundarroch bred dogs at FKC:
http://jalostus.kennelliitto.fi/frmKasvattaja.aspx?K=DUNDARROCH&R=10